Fresh Local and Organic Lunch Ideas
---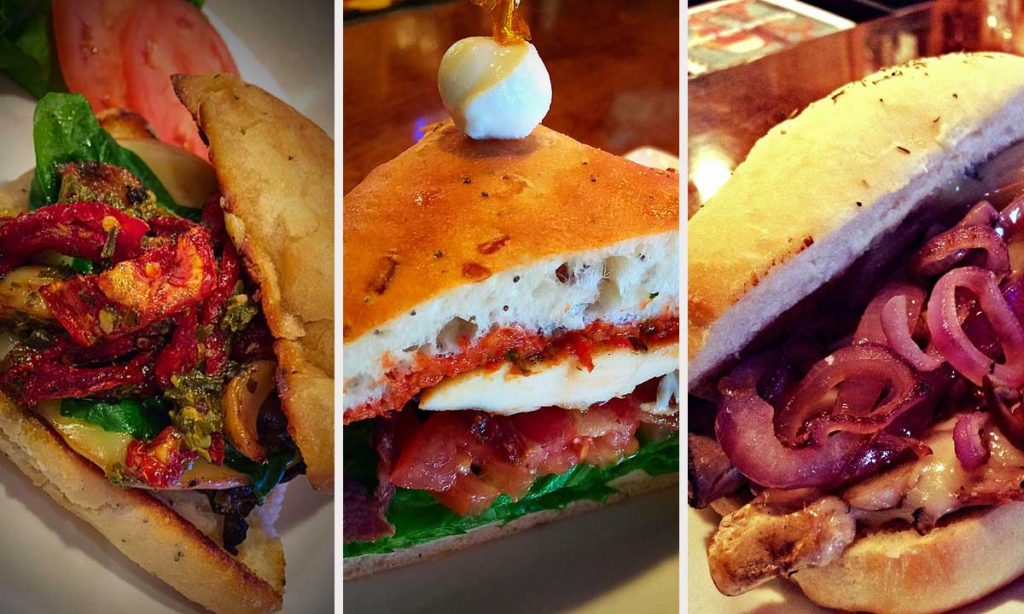 Grab a quick bite or enjoy a full lunch and a micro brew with your friends. Sirloin beef burgers and hot melts, burger stackers, sandwiches, wraps and southwestern dishes are just a few choices available. Or maybe you'd like to drop in for a piping hot cup of coffee and share one of our super-sized delectable desserts with your best buddy. Take a look at some of our Featured Lunch items below, or click the button to view our complete Lunch Menu.
Featuring house made dressings
ranch - italian parmesan - blue cheese - cactus - orange citrus - 1000 island
Add avocado: ½ $2.00 ¼ $1.00
*Allow extra grill time for well-done orders.*
Burger Options & Add Ons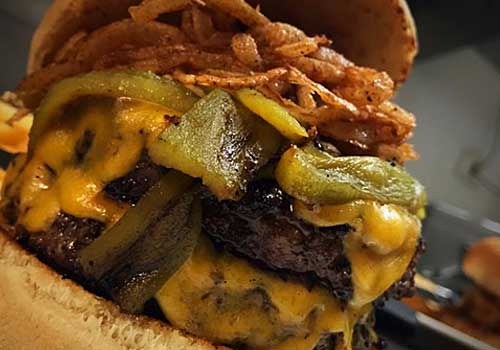 *Allow extra grill time for well-done orders*
*beef patty 11.25 double *beef patty 16.95 grilled *chicken breast 12.00 veggie burger 10.75 bison *burger (locally raised, all natural) 15.95
Served with lettuce, tomato, red onion & pickles
Red Chili (meat & bean) 1.50
Green Chili Strips 1.00
Mushrooms 1.00
Fresh Jalapeños 1.00
Guacamole 1.50

Avocado ½ 2.00 - ¼ 1.00
Onion Straws 1.00
Sun Dried Tomato 1.00
Roasted Garlic 1.50
Bacon (2) 1.50

Pepper Jack Cheese 1.50
Monterey Jack Cheese 1.50
Swiss Cheese 1.50
Cheddar Cheese 1.50
Smoked Gouda Cheese 1.50

*These foods are cooked to order and may be undercooked.
*Consuming raw or undercooked meats, poultry, seafood, shellfish, or eggs may increase your risk of food-borne illness.*
Burgers are served with choice of: house vegetable sauté, baked potato + butter + sour cream, raw veggies (carrots, broccoli, celery), garden salad, regular or seasoned fries, sweet potato fries, or house made potato chips. Gluten free bun available. $1.50.
Served with choice of regular or seasoned french fries, sweet potato fries, garden salad, raw veggies (carrots - broccoli - celery), or house-made potato chips. Gluten free bun available. 1.50
How Did We Do?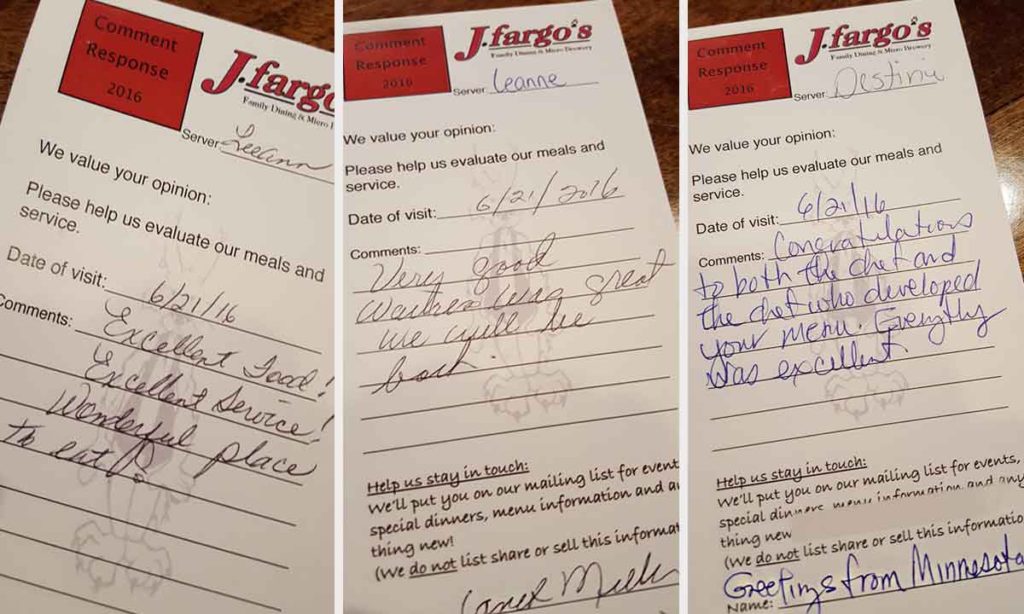 Southwest dishes are served with chips and house made salsa upon request.
We are now offering Broaster® Fried Chicken
"Broasting" is a method of preparing chicken that combines pressure cooking and deep frying. It was introduced by The Broaster® Company in 1954 and offers a fraction of the carbs, fewer calories and in most instances, less fat than the leading national brand's! Genuine Broaster® Chicken has no added MSG.
Your Broaster® Chicken is prepared 'to order', thus providing the freshest, hottest and most delicious chicken entree choices in our area!
PREPARED IN HOUSE DAILY!
Marinated for 12 hours, hand dipped in our GENUINE BROASTER® seasoning, and fried golden brown!
A la Carte Extras for Broaster® Chicken
baked potato:
(+butter+sour cream) 2.50
mashed potatoes & gravy:
(available after 4pm) 2.00
dinner roll: .75

basket of fries:
(regular or seasoned) 3.50
basket of onion rings: 7.00
sweet potato fries:
(basket) 4.65

house made potato chips: 3.25
potato scoops: 3.25
garden salad: 2.65
house salad: 5.25

---